Yuu Misaki
6 days left until Minimal Move's Kickstarter finale!!!
Countdown is started!!!
6 days left until Kickstarter ends!






Dear our backers,
Our Kickstarter campaign is going to be over in 6 more days! 
We reached this point because of your support. 
Because you believe in our game, we've reached 77% of our initial goal of Kickstarter!
Thank you so much for your support! 
Jonathan and I are both so happy to have great and kind supporters from everywhere!
Now we only have 6 more days. We still need 23% more in 6 days! 
We won't waste your support, your cooperation and your kindness. We will do our best for these last 6 days.  Please give us your power for another 6 days! 
Even a small pledge will help us a lot! 
One Tweet, one post, or one word to your friends will be super helpful! 
If you are a streamer or a YouTuber, please make a video about Minimal Move and share it with us! 
We really love to see you playing!
If you haven't pledge us yet, please do so in 6 days!
We have special price only for Kickstarter backers and many more rewards with the game! We can prepare this much only for Kickstarter people!
Please check our Kickstarter page if you haven't! 
You can get this game starting from 15€!
We are now doing our best to let the world know about this game!
We won't forget your sincere support. 
With your help, we have a chance to make this game!  Thank you!
With love,
Yuu Misaki
On behalf of Tako Studio
With our sincere gratitude
Heart aura giveaway!


For everyone who pledge any reward of Minimal Move on Kickstarter, you'll receive this heart aura on Kaiten and Ido! 
You can switch this aura on and off. 
Please enjoy this when you receive the completed Minimal Move at your home!  


Let me introduce
Kaiten and Ido!
The main characters of MINIMAL MOVE are Kaiten and Ido! 
How do you like them? 
Since Jonathan wanted to make a cooperative game, he already decided to have two characters.
One character need to rotate the blocks and the other can move the blocks right and left and up and down. 
He wanted to make a boy and a girl as characters. And they need to be recognized by the players easily by their visual especially by their silhouette from the distant point of view.
This is why Kaiten is a big man and Ido became a smaller lady. 
The name is simply taken from Japanese language. Kaiten is written 回転 which means rotating, and Ido is written 移動 which means moving. 
So it's a bit confusing when I introduce this game to Japanese people... That's the only issue but we love their names! 
And of course, the characters need to be likable and cute. 
In Japan, we say "Kawaii is justice". Isn't it true? I mean most often than not...
What do you think?
What is Kaiten's personality?


Kaiten is a jolly fellow! His ability is to make blocks turn! Kaiten is a comical guy and mostly enjoys joking around, but he is actually a gentleman and is always helping his friend! 


What is Ido's personality?


Ido is an intelligent lady! Her ability is to move blocks to the right and left or up and down. She is a very calm and sophisticated independent woman. She seems cold but has a big heart and is always there for her friends! 
Jonathan and I found that these characters are like us! We hope you can also connect with these characters...
The chemistry with this team will make this game even better! 
We hope we can make the cinematic about them with their adventure and friendship story! 
How was the introduction of Kaiten and Ido? 
Please leave us comments on our Kickstarter page!


If you are not familiar with Kickstarter, please check the information here. 
Kickstarter has many tips for becoming a backer in their help section! We hope it helps you to understand the function more! 
The participation period is 30 days and it is scheduled from May 14th and the deadline of the campaign ends on June 13th.  
The goal is not only the achievement of the amount but also, having a network all over the world through this campaign to expand a community with strong connections and active communications in exchange for players' various viewpoints on the game's  production.
We hope you can participate our campaign as well! 
Please talk about our game with your friends and family! 
Let's do this together!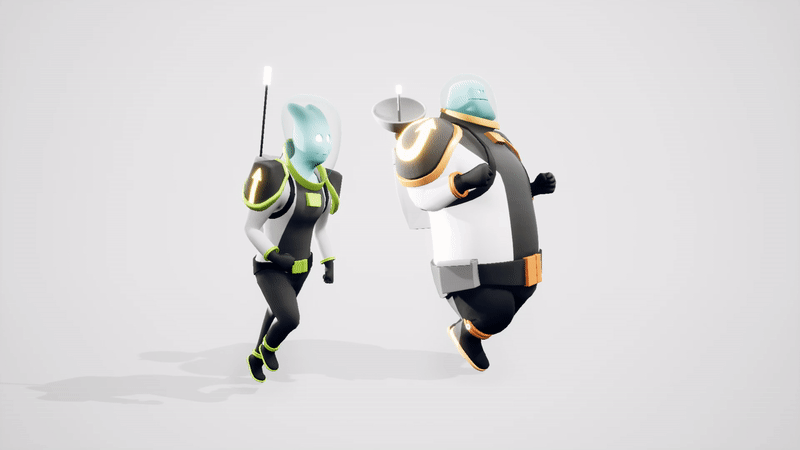 You can also take a look at our newsletter from here!
Don't forget to join our mailing list to receive our updates and more!